Dog designed, developed and implemented a completely new website and CMS for Comgest across multiple markets and language variants.
An independent company with a global business
Founded in 1985, Comgest is an independent, international asset management group with entities in Paris, Dublin, Brussels, Hong Kong, Tokyo, Singapore, Düsseldorf, Amsterdam, Sydney and Boston.
It serves a diverse client base of long-term oriented investors around the globe and it currently has assets under management totalling around £20bn.
Comgest maintained a high degree of loyalty among clients thanks in part to the enduring partnerships that were built on mutual trust and integrity over the long term, and this needed to be reflected in both content and design.
The choice of CMS platform was therefore critical, especially when our ultimate goal was to deliver a more refined and personalised user experience to improve brand awareness. This led us to combine our expertise in web design and the Sitecore Experience Platform (XP) which was absolutely fundamental to the success of this project.
Comgest's main problem was the lack of cohesion, unity and responsiveness across all of its disparate sites. Moving from a website that used an OpenCMS system – and was optimised for desktop browsers only – meant the whole site was in urgent need of a modern, responsive design.
We enhanced the Comgest brand by unifying all of their information into one site, enabling customers to receive dynamic, interactive data in their preferred language (English, French, Italian. German, or Dutch) for their particular audience type (retail, wholesale, and institutional) on the device of their choosing (mobile, tablet, desktop), in their particular location, while complying with regulatory constraints across 20 countries. And all this had to have the ability to be maintained by a small Comgest team too.
By using item cloning in Sitecore, we were able to construct a content hierarchy which enabled all of these things easily. A master content node now contains all of the items found throughout the site, and custom scripts automatically clone these to other nodes based on geography and audience. As part of this project, a significant amount of time went into building a custom service to import these data files to the Sitecore media library, categorising and tagging them with the appropriate taxonomy based on metadata in the files.
We also built a custom service to import the funds' financial data to a local database so that it could be output as JSON files and rendered into graphs and charts. Visitors to the Comgest website can now access the files and data directly from the fund detail pages, once they have selected their location and audience type. One final feature that was designed to improve the customer experience, was to allow customers to subscribe to monthly updates to each investment fund, as well as other newsletters. An integration with an external CRM was created to support this functionality. This same integration also supports password-protected areas of the site, which required unique user credentials to access.
The visual identity is the key outward expression of Comgest, uniquely and distinctively setting it apart from other investment companies.
The Comgest Globe logo is the primary element of that identity. The Globe has been designed at a 23.5° angle to represent the angle of the planet in relation to its sun. The angles of the typography within the wordmark help to support this element.
Inspired by the Comgest brand mark, we used the 23.5° angle as our anchor point', exploring and ultimately incorporating it throughout our design to create a distincly unique website.
The synergy of the new design and incorporated branding made every regional site feel part of one family. The seamlessness, accessibility and availability of the information investors require is night and day to the system we were operating before, and it's made a huge difference to how we're perceived in the marketplace.
Juliette Alves
Portfolio Manager, Latin America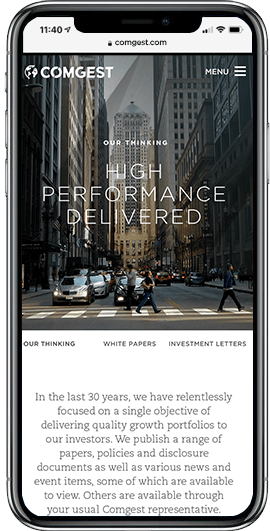 Immediately
successful
The website went live at the end of April 2020, and promotion of the new site only recently began. We immediately saw increased customer engagement as individuals found the fund data they needed and began bookmarking and registering for monthly updates. The catalyst for all this was improving how website content is maintained by allowing a small team to deliver information to their customers more rapidly and at a reduced cost.
This project was awarded a Sitecore Experience Award in 2020 in the Most Sophisticated Implementation category (EMEA-South region).